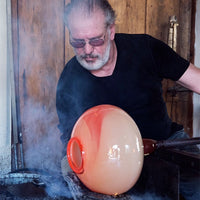 ABOUT THE ARTIST
Blowing glass amid hot furnaces is all that David Reade has known since his teenage years. "When I was 16, I visited a glass studio on the Isle of Wight. I watched the master and it grabbed me completely," he says. It took Reade three weeks to convince the studio to take on another apprentice, and a further seven years to learn the art. 
40 years later, Reade, who moved to South Africa in 1984, is the country's best-known glassblower. He creates both functional and sculptural works, as well as commissions for some of the country's top alcohol, cosmetic and architectural brands.
Reade makes his clear glass himself, from "true Cape sand", and each piece starts as a ball of molten glass at the end of an iron pipe. Reade's assistant then blows through the pipe, while he shapes the ball, using handheld tools.
Contact The Team
testimonials
David Reade is without doubt South Africa's best known glass blower. He is a highly skilled and competent glass technician with decades of experience.

Manzart
OKHA has been working with David for more than ten years. His undoubted skill, expertise and great knowledge of glass has given birth to some truly iconic OKHA glassware. His unique works and incredible custom lighting installations have adorned many of our interiors projects.

Adam Court, OKHA
David blows magic into glass, creating magnificent pieces of art! Love his work!

Carla Antoni, SAOTA
I always enjoy exploring news ideas with David using his skill and experience to push the boundaries of material and process.

Martin Doller